Vent-Gard offers an ounce of prevention
Sherman man starts his own business cleaning dryer vents
By Linda Wellman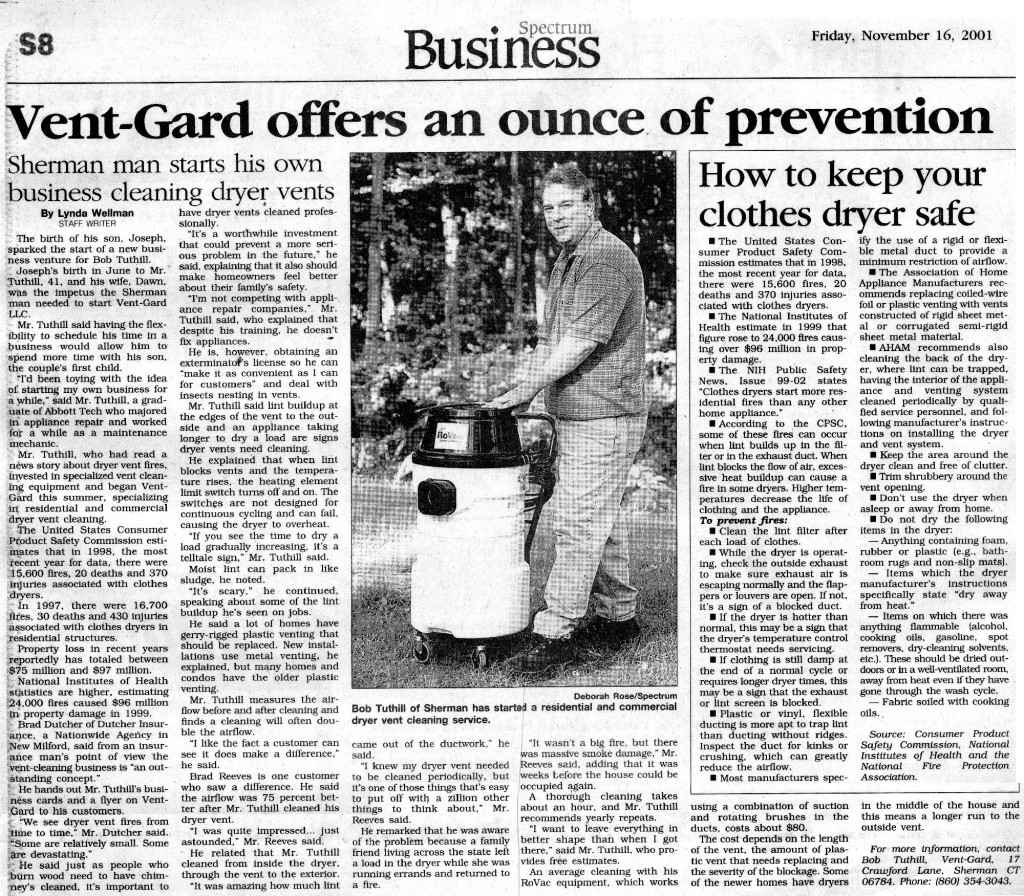 The birth of his son, Joseph, sparked the start of a new business venture for Bob Tuthill.
Joseph's birth in June to Mr. Tuthill, 41, and his wife, Dawn, was the impetus the Sherman man needed to start Vent-Gard LLC.
Mr. Tuthill said having the flexibility to schedule his time in a business would allow him to spend more time with his son, the couple's first child.
"I'd been toying with the idea of starting my own business for a while," said Mr. Tuthill, a graduate of Abbott Tech who majored in appliance repair and worked for a while as a maintenance mechanic.
Mr. Tuthill, who had read a news story about dryer vent fires invested in specialized vent cleaning equipment and began Vent Gard this summer, specializing in residential and commercial dryer vent cleaning.
The United States Consumer Product Safety Commission estimates that in 1998, the most recent year for data, there were 15,600 fires, 20 deaths and 370 injuries associated with clothes dryers.
In 1997, there were 16,700 fires, 30 deaths and 430 injuries associated with clothes dryers in residential structures.
Property loss in recent years reportedly has totaled between $75 million and $97 million.
National Institutes of Health statistics are higher, estimating 24,000 fires caused $96 million in property damage in 1999.
Brad Dutcher of Dutcher Insurance, a Nationwide Agency in New Milford, said from an insurance man's point of view the vent-cleaning business is "an outstanding concept."
He hands out Mr. Tuthill's business cards and a flyer on Vent Gard to his customers.

We see dryer vent fires from time to time," Mr. Dutcher said. "Some are relatively small. Some are devastating."
He said just as people who burn wood need to have chimneys cleaned, it's important to have dryer vents cleaned professionally.
"It's a worthwhile investment that could prevent a more serious problem in the future," he said, explaiping that it also should make homeowners feel better about their family's safety.
"I'm not competing with appli-ance repair companies," Mr. Tuthill said, who explained that despite his training, he doesn't fix appliances.
He is, however, obtaining an exterminator's license so he can "make it as convenient as I can for customers" and deal with insects nesting in vents.
Mr. Tuthill said lint buildup at the edges of the vent to the outside and an appliance taking longer to dry a load are signs dryer vents need cleaning.
He explained that when lint blocks vents and the temperature rises, the heating element limit switch turns off and on. The switches are not designed for continuous cycling and can fail, causing the dryer to overheat .
"If you see the time to dry a load gradually increasing, it's a telltale sign," Mr. Tuthill said. Moist lint can pack in like sludge, he noted.
"It's scary," he continued, speaking about some of the lint buildup he's seen on jobs.
He said a lot of homes have gerry-rigged plastic venting that should be replaced. New installations use metal venting, he explained, but many homes and condos have the older plastic venting.
Mr. Tuthill measures the airflow before and after cleaning and finds a cleaning will often double the airflow.
"I like the fact a customer can see it does make a difference," he said.
Brad Reeves is one customer who saw a difference. He said the airflow was 75 percent better after Mr. Tuthill cleaned his dryer vent.
"I was quite impressed… just astounded," Mr. Reeves said.
He related that Mr. Tuthill cleaned from inside the dryer through the vent to the exterior. "It was amazing how much lint came out of the ductwork," he said.
"I knew my dryer vent needed to be cleaned periodically, but it's one of those things that's easy to put off with a zillion other things to think about," Mr. Reeves said.
He remarked that he was aware of the problem because a family friend living across the state left a load in the dryer while she was running errands and returned to a fire.
"It wasn't a big fire, but there was massive smoke damage," Mr. Reeves said, adding that it was weeks before the house could be ccupied again.
A thorough cleaning takes about an hour, and Mr. Tuthill recommends yearly repeats. "I want to leave everything in better shape than when I got there," said Mr. Tuthill, who provides free estimates.
An average cleaning with his RoVac equipment which works using a combination of suction and rotating brushes in the duct, costs about $80.
The cost depends on the length of the vent, the amount of plastic vent that needs replacing and the severity of the blockage. Some of the newer homes have dryers in the middle of the house and this means a longer run to the outside vent.